Museum of Northwest Colorado named Best Local Museum of 2022
March 4, 2023
James Neton
jneton@craigdailypress.com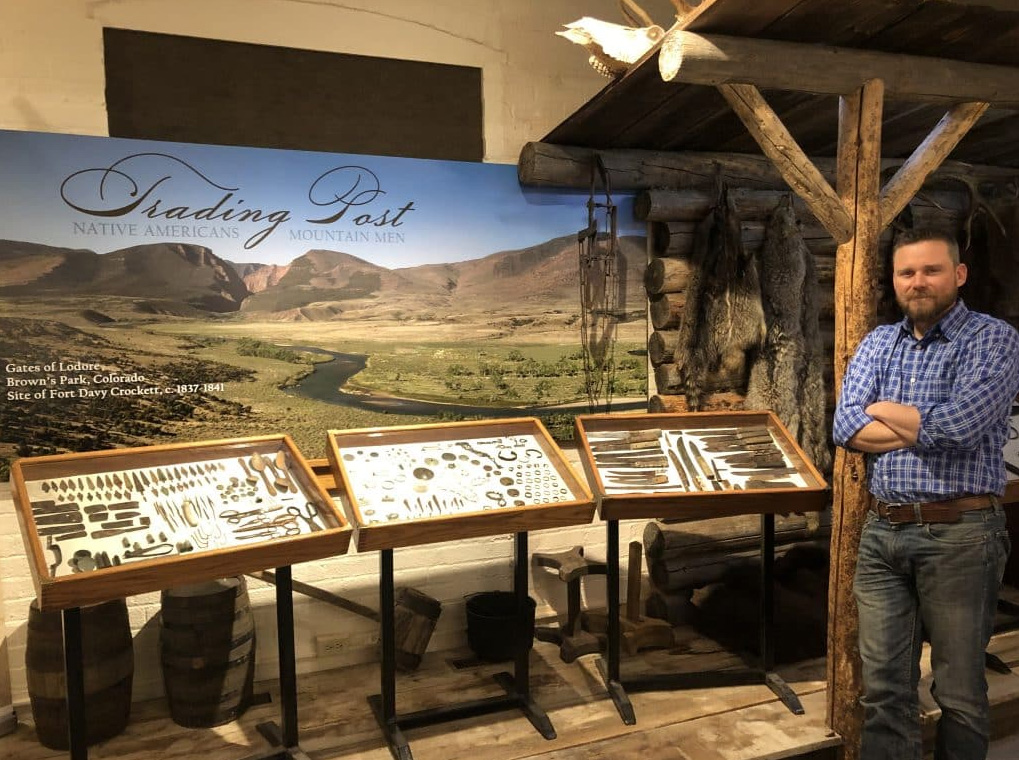 Paul Knowles, assistant director of Museum of Northwest Colorado in Craig, stands next to the museum's newest exhibit featuring the trading posts of the Yampa Valley region, Fort Davy Crockett and the Joe Morgan trading post. James Neton/Craig Press
The Museum of Northwest Colorado was voted Best Local Museum of 2022 by readers of Colorado Country Life magazine, the publication of the Colorado Rural Electric Association.
While the unsolicited People's Choice award was a pleasant surprise, it also reflects years of hard work and the museum's growing renown for providing the genuine history across the Yampa Valley.
For years, the museum staff has quietly amassed a collection of prized artifacts that have increasingly caught the eye of researchers and authors of Western history. In July 2022, the museum took in a collection of amazing artifacts related to the life of Josie Bassett Morris, a member of the illustrious Bassett clan of Brown's Park.
The highlight of this acquisition is a copy of "The Outlaw Trail" by Charles Kelly, considered a bible of seminal events of the Old West. In the margins of this book, Josie wrote hundreds of opinionated remarks and corrections, especially in the chapters about Brown's Park and Butch Cassidy.
"She has this first-hand knowledge of some of the most amazing parts of Western history, and those just don't come about anymore," remarked Paul Knowles, assistant director of the museum. "Most of these have been found and reported on and written about. So this is a nationwide interest item that the museum has acquired."
Josie's great-granddaughter made the donation because she trusted the museum to honor and take care of these historically important family relics.
"We are very much about forming relationships. There's so much stuff out there that would end up in bigger institutions," Knowes said. "But so many people have a fear that a donation is just going to be thrown in the back and lost in the shuffle. Here (at the museum) it's more accessible to the family going forward."
The Museum of Northwest Colorado's collection also encompasses the entire Yampa Valley.
"We have a massive collection of early Steamboat, all the way through the 40s and 50s," Knowles said. "One of the photographs we have is the earliest picture of early downtown Steamboat from 1890, just a wonderful photo."
While preserving and interpreting history is the museum's primary job, it has other roles that are becoming increasingly important as the Yampa Valley is on the brink of tremendous change.
Knowles believes the museum can be the spearhead for keeping the region's proud history intact, and acting as a positive and prideful "handshake" of introduction to visitors and newcomers to the Yampa Valley.
Click here to read the full article.