Craig lands $600K grant to support Yampa River park and river access project
March 15, 2023
Staff report
news@craigdailypress.com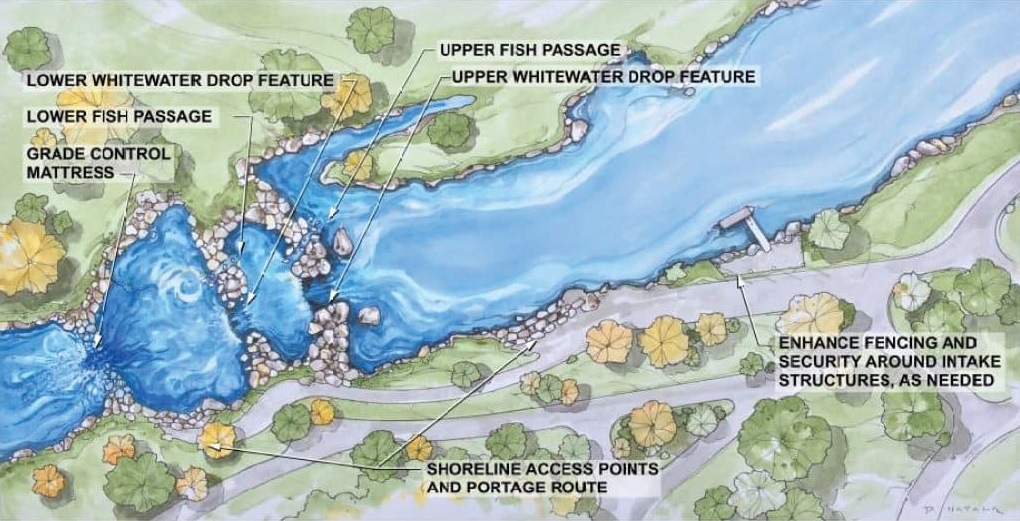 A concept plan shows planned whitewater features along the Yampa River in Craig. This and more is in the works as part of the Yampa River Corridor Project. Courtesy photo
The Great Outdoors Colorado board has awarded Craig a $600,000 grant to support the Yampa River Corridor Project, a whitewater park and public access improvement effort.
Great Outdoors Colorado announced the grant on Friday, March 10, in a news release. According to Great Outdoors Colorado, the grant is part of its Community Impact program, which develops and revitalizes parks, trails, school yards, fairgrounds, environmental education facilities and other outdoor projects that enhance a community's quality of life and access to the outdoors.
The nearly $5 million project in Craig is comprised of three major elements — Loudy Simpson Park improvements that include a new concrete boat ramp, access road and parking area; whitewater park infrastructure along with features to allow fish to safely pass; and land-based river park amenities to include an access road, parking areas, connective trails, river access for anglers and small watercraft, nature-based play areas, picnic shelters and more.
The park system along the Yampa River is expected to be completed by the end of 2024.
Initially championed in 2016 by the Northwest Colorado Chapter of Parrotheads, the project's development to date has involved years of feasibility studies, design and public feedback efforts led by both city and county officials. The city and county formally joined forces in 2020, along with an array of partners, to work collaboratively toward the project's vision.
"This project is the product of broad synergistic collaboration," Craig Mayor Ryan Hess said in the news release. "The planning process was open and allowed those involved to interact with each other. The city and county worked together with local, state and federal agencies to help better our community. This is exactly how governance should work."
The local economy in Moffat County has been driven largely by agriculture and the coal industry for decades, but as coal industry jobs are phased out, outdoor recreation has been identified as a priority to improve quality of life and attract new residents and industry to the area.
Click here to read the full article.