Craig lands $1.5M for 8th Street Redevelopment Project, but the city will have to spend that money fast
March 23, 2023
Eli Pace
epace@craigdailypress.com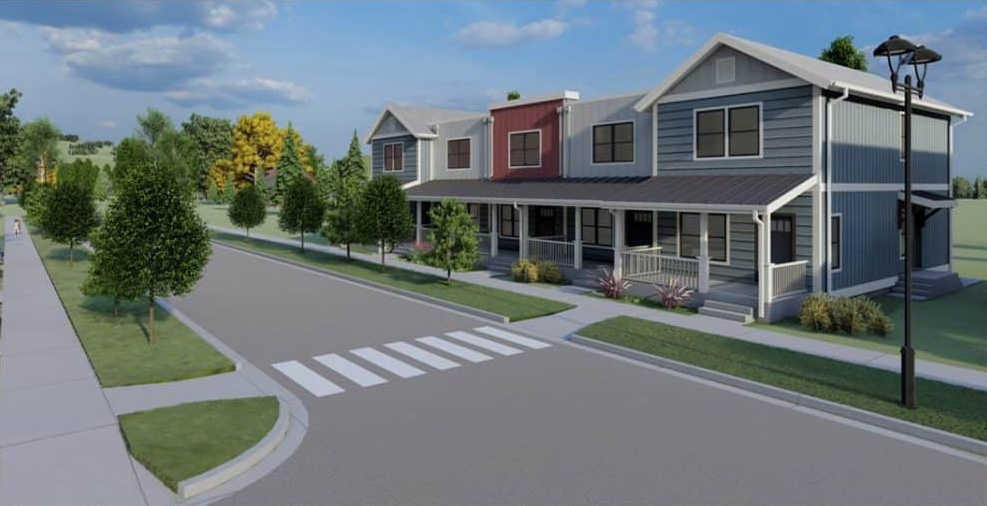 This rendering shows a concept of what the 8th Street Redevelopment project in Craig could look like once complete. City officials got news this month that the project has been awarded $1.5 million in new grant money. City of Craig/Courtesy photo
The 8th Street Redevelopment Project in Craig got another boost this month with news the city has been awarded $1.5 million through the Innovative Housing Incentive Grant Program from the Colorado Department of Local Affairs.
If the affordable housing project at the former Memorial Regional Hospital site between Tucker and Russell streets goes to plan, the city will purchase 20 homes produced from a production facility in Buena Vista. They will come in four, five-unit buildings and vary in size from 1,152 to 1,368 square feet.
The homes will come with some amenities too, such as a backyard, carports for two vehicles and walkways in front of each home. City Manager Peter Brixius said the homes will not likely be ready for sale until sometime in 2024.
"It's a great location," Brixius said of the project. "It's close to schools, the senior center, the Chamber of Commerce and the core downtown area in Craig, so it's within walking distance to all those areas."

The grant money comes from state legislation that directs it to local governments that are working to develop innovative affordable housing projects. Grant applications were judged on a variety of factors, including project readiness, capacity and the potential impact on local housing needs, among others.
In a letter dated March 13 informing Craig Mayor Ryan Hess of the $1.5 million award, state officials said they also reviewed qualifying land-use strategies associated with the application, and they applauded the city's progress in this area.
However, because the grant money is tied to state and federal stimulus funding, it must be spent before April 2024.
"That pretty much means that in 2023, the improvements have to be made to the site," Brixius said.
The project is meant to transform the former hospital site that was razed in 2021, cleaned up and mitigated for asbestos. The county and Memorial Regional Health owned the property before transferring it to the Craig Housing Authority, which was formed last year.
On March 14, Brixius told City Council the $1.5 million would pay for infrastructure work. City officials are still awaiting news on a $5 million grant request.
The overall project is estimated to cost $7.6 million, and Brixius previously told the Craig Press the city had $1.8 million to $2 million secured and he didn't anticipate the city taking on any debt for the project.
Click here to read the rest of this article.