Craig Housing Authority breaks ground on townhomes
September 6, 2023
Ashley Dishman - Craig Press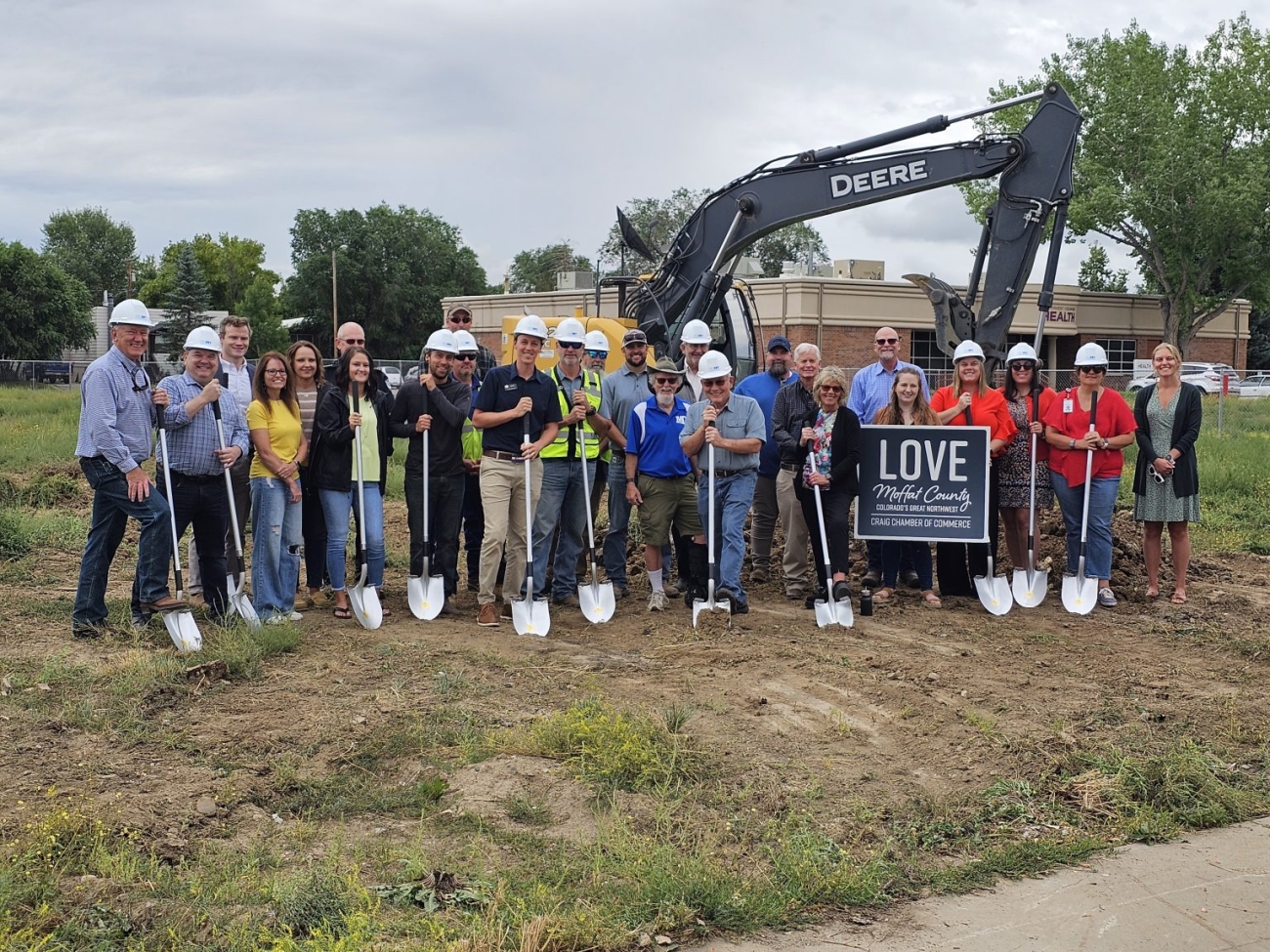 8th St. Redevelopment Project Groundbreaking
The Craig Housing Authority recently broke ground on a new 20-townhome complex that will house essential workers.
The monumental development is the first of its kind in more than 40 years.
On Aug. 25, the Craig Housing Authority celebrated a milestone in their years-long quest to create affordable housing in Craig that will be located between the city's downtown and Craig Middle School.
The project will provide a mix of 1,152-square foot 2-bedroom units and 1,368-square foot 3-bedroom units at the former Memorial Regional Hospital site between Tucker and Russell streets.
The property was donated to the city by Moffat County and Memorial Regional Health.
Construction will be led by Fading West of Buena Vista. The company states that their goal is to "eliminate the housing crisis for the workforce in the communities they serve (by reimagining) the construction industry using our state-of-the-art factory to build high-quality, affordable, factory-built homes." They want to "ensure that the prospect of attainable homeownership does not fade away for people living and working in the mountain towns of Colorado and across the western United States."
The townhomes themselves will include attractive quality features such as engineered lumber and quartz countertops. The units will also be highly efficient, boasting energy star ratings. City Manager Peter Brixius is confident the homes will present an "attractive, affordable option" for home-seekers in Moffat County.
The city's Housing Authority hopes that essential workers will benefit from the new housing option. With both the hospital and the school district — two of the area's biggest employers — feeling the negative effects of limited housing for potential new employees, this project will serve as a key resource.
The housing deficit has also presented a major hurdle for the Craig community in general, and the hope is that the success of this project will also spur outside contractors to launch similar housing projects of their own. So while the new townhome complex may not satisfy the entire need for housing in Craig, it's definitely a start.
The project is largely funded by grants and contributions, and represents a collaboration between the Craig Housing Authority, the City of Craig and Craig City Council, Memorial Regional Health, Moffat County, the Colorado Department of Local Affairs, the Department of Housing, Senator Dylan Roberts, Ayres Associates, Fading West Development and ProSet Construction.
Work has already started, with horizontal construction slated to be completed this fall. Construction will recommence in the spring (as soon as weather allows) with a planned completion date of mid-summer 2024.
For more information and updates about this development, please visit: https://www.ci.craig.co.us/residents/real_estate.php