2023 Business Plan Competition
Monday, June 19th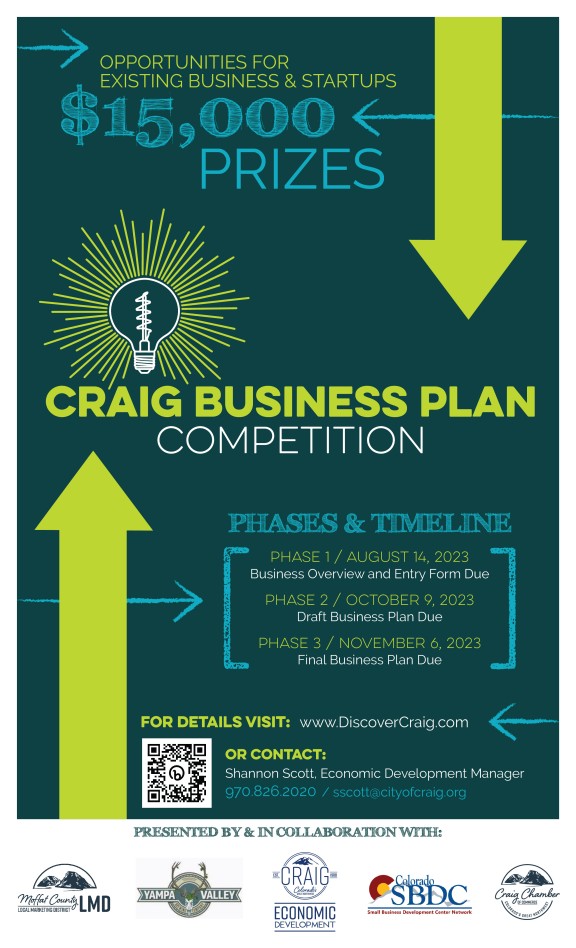 Details
The 2023 Craig Business Plan Competition is a three-phase competition that is an opportunity for entrepreneurs to develop viable business plans that will expand their business in Craig and Moffat County by competing for cash and in-kind prizes.
Any individual or a multi-person team (up to four contestants per team) is welcome to enter the competition if they meet the following eligibility requirements. In Phase I, contestants must submit the entry form and an original two-page business overview for the expansion of their business. If selected, contestants will move forward as semi-finalists and create a draft business plan in Phase II.
All semi-finalists will receive compiled and anonymous feedback from the Judging Panel. The Judging Panel will select the finalists who will be invited to participate in Phase III of the Competition. Selection as a finalist does not guarantee that any award will be given.
Please click the link below and check out the Competition Guidelines for more specific details and what is required for each Phase and a schedule of events/deadlines.

Start-Up Businesses
Contestants must have a unique idea, product, or service that they are wishing to bring to market and must submit an original, viable, business plan for the creation of a new business. Existing business owners who are creating new ventures as separate entities are also eligible.

Existing Businesses
Contestants must have an existing for-profit business that is beyond the concept stage, is legally formed at the county level (ex. Assumed Name filing for sole proprietor, general partnerships) or at the state level (ex. LLC, Corp, S Corp, etc.) and is incurring business costs and revenue at the time of entry in the competition to qualify for the existing category. Businesses must be located within Craig or Moffat County to be eligible for an award. Contestants must also be committed to economic development in Craig and Moffat County, which includes job creation . 1 Awards winners must establish and maintain their business expansion in Craig or Moffat County for the period indicated in the grant agreement.
The Competition Officials reserve the right to cancel the competition at any point if, at the sole discretion of the Competition Officials, there is insufficient quality or quantity of business overviews or business plans to proceed. Their determination will be final.
Economic Development is the creation of wealth from which community benefits are realized. It is more than a jobs program, it's an investment in growing your economy and enhancing the prosperity and quality of life for all residents.
Please visit https://discovercraig.com/business-resources/2023-craig-business-plan-competition/ for the full Competition Guidelines and application documents.
Contact Information
Shannon Scott
Phone: 19708262020
E-mail: .(JavaScript must be enabled to view this email address)